Kara's Urban Day Spa
Establishment and beauty salon at 650 Portland Street, Dartmouth, NS B2W 6A3, Canada. Here you will find detailed information about Kara's Urban Day Spa: address, phone, fax, opening hours, customer reviews, photos, directions and more.
Opening hours
| | |
| --- | --- |
| Sunday | 12:00pm — 06:00pm |
| Monday | 09:00am — 09:00pm |
| Tuesday | 09:00am — 09:00pm |
| Wednesday | 09:00am — 09:00pm |
| Thursday | 09:00am — 09:00pm |
| Friday | 09:00am — 09:00pm |
| Saturday | 09:00am — 06:00pm |
Rating
1 /5
Based on 1 reviews
Photos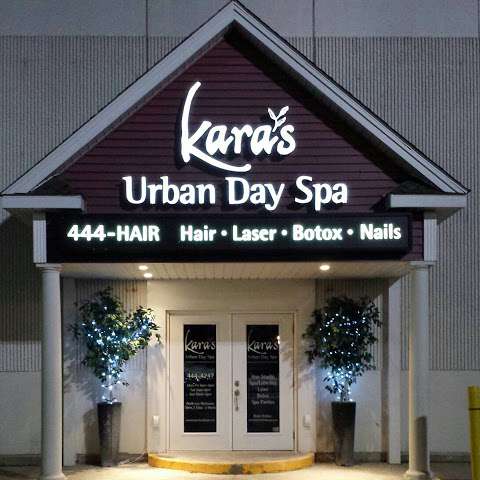 Reviews of Kara's Urban Day Spa
Margaret MacDonald Added 2018-02-24

★ ☆ ☆ ☆ ☆

I wanted to give no stars but I couldn't post unless I chose at least one start they don't deserve even one star. I recently got a french manicure with shellac so my nails looked awesome for my cruise vacation. The girl who did my manicure was very nice however she didn't put the nail polish on conventionally but with a stylus that would be used for painting. I spoke to her several times during the process to say I had never seen it done that way and she assured me it would be no problem. On Day 4 of my cruise four of my nails were chipped off so much I had to clip them back and another nail had 1/3 of the white nail polish completely chipped off. I called to voice my concerns to Kara's and was offered 15% off removal of my shellac treatment that would have been $12.00 minus 15% a grand total of $1.80 what an insult so I explained that was not acceptable since I paid $35.00 for the french manicure and $15.00 on top of that for the shellac treatment which should last at least 7-10 days, in the past it has always lasted at least 2 weeks. I felt giving me a credit of 50% of what I had paid for the service would have been fair that would have been $25.00 towards my next service. I was not asking for a full refund which should have been offered to me. So the owner was contacted and he came back with his offer of 50% of the cost of a regular manicure so 50% off $30.00 a whopping $15.00. Another insult to his customer Wow he really cares about his customers. I told her that was not acceptable and I cancelled the appt I had to have my shellac removed not giving any more money to someone who doesn't care about his customer. I told the lady I spoke with to tell the owner that I was very dissatisfied and may not be back as a customer since he doesn't seem to care about his customers. Fancy place perhaps they should learn great cutomer service cause they obvious are not aware of how to treat customer. I spent a total of $127.00 that day oh well won't be doing that in the future.
About karasurbandayspa.com